Venue, travel and accommodation information
Mannerheimintie 13e, 00100 Helsinki, Finland
EWEA Resource Assessment 2015 technology workshop will take place on 2 & 3 June 2015 at Finlandia Hall, a congress center designed by Finland's iconic Architect Anvar Aalto.
This unique, centrally located multi-activity venue is conveniently located in the centre of Helsinki, in a park on Töölönlahti Bay, just a few minutes walk from the central railway station. It is easily accessible from Helsinki airport (30 to 55 minutes by taxi or bus). A direct rail connection between the airport and the city centre should also become operational in the summer of 2015.
Finlandia Hall implements the EcoCompass environmental management system to reduce its environmental footprint.
---
Getting there

Finlandia Hall
Mannerheimintie 13e
00100 Helsinki
Finland
Tel. +358 9 40241
E-mail: [email protected]
The conference room is Helsinki Hall, located on the second floor. You can access the Helsinki Hall by using the main entrance of the venue M4, as shown on the plan below: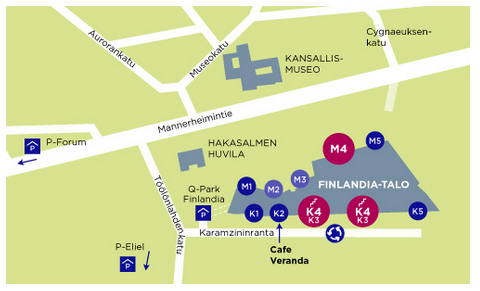 By air
From Helsinki Airport:
– by bus (30-40 min)
– by taxi/car (25-30 min)
Helsinki is easy to get to from anywhere in the world. Around 200 international flights arrive at Helsinki-Vantaa Airport each day. The airport consistently ranks among the best in the world and is situated just 19 kilometres (approximately 25 minutes) from the city centre. Getting to and from the airport is easy by taxi, the Finnair City Bus (every 20 min) or Helsinki Region Transport's Bus 615 (every 30 min). A train line linking the airport directly to the city center will start operating in Summer 2015.
Bus:
Finnair City Bus and Airport Bus 615 (620 during night time) operate to and from Helsinki City Center.
Tickets can be purchased beforehand online from Pohjolan Liikenne. The online ticket fare is 6,20€. The online ticket is a Flexible ticket that allows you to a single City bus trip at any time and direction within 30 days of the date marked on the ticket. When booking the City Bus tickets online, please use these stops in your search: Helsinki Centre Elielsquare & Helsinki Airport T1 or T2.
Tickets can also be bought from the driver onboard the bus. The fare for the Finnair City Bus when bought onboard is 6,30€ one way. Payment is accepted in cash or with most common credit cards. You can find the schedules here:
From the airport to the city and from the city to the airport.
Taxi:
Though taking a taxi can be more convenient, please be aware that it will be significantly more expensive, unless you share one with a colleague.
The average fare from the airport to Finlandia Hall is 45-48€, although you some fixed rate airport taxis can also offer cheaper rates (25€).
Helsinki Taxi Centre: +358 100 0700
By ferry
There are daily ferry services to Helsinki from Estonia and Sweden, see e.g. Tallink Silja Line, Viking Line or Eckerö Line, as well as from Germany by Finnlines. All the ferry companies offer also possibility to take a car with you. Helsinki can be reached by ferry also from Russia by St. Peter Line as well as from Poland.
---
Accommodation
EWEA recommends the following hotels for their convenient location and affordable rates:
All three hotels are in walking distance (7-8 min) from the venue.
---
About Helsinki
Helsinki, the capital of Finland, is a modern city with over half a million residents and is situated on the Baltic Sea. Alongside its neighbouring municipalities of Espoo, Vantaa and  Kauniainen, Helsinki forms a metropolitan area of more than a million inhabitants.
Helsinki is recognised as a city in which many differing views can interact in a constructive atmosphere. The Finlandia Hall has hosted many international summit meetings, including the Conference for Security and Co-operation in Europe in 1975.
Helsinki was one of nine European Cities of Culture in 2000, and in 2012 it became the World Design Capital for a year. In 2014 Helsinki was awarded City of Design status as part of the Creative Cities Network established by UNESCO.
You will find more information about Finland's capital city on www.visithelsinki.fi