Proceedings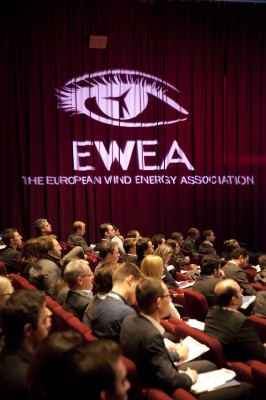 Proceedings: all participants have been given the link to the page from which they can download all presentations.
Proceedings are also available free of charge to all EWEA members via the EWEA Members' Area.
For non-EWEA members, proceedings can be ordered on this page.
Programme outline
 Detailed programme
Tuesday 9 December 2014 – 09:10 – 11:00
Session 1: Data from operating assets: monitoring and collection methodologies
Session chair: Hans Ejsing Jørgensen, head of section, DTU Wind
Session description: This session will explore new ways of collecting and using data from operating assets to improve the performance of wind turbines. It will look at new methods for detecting performance changes and ways of using SCADA data to improve the monitoring of assets.
The session will also feature case studies, including findings of an analysis of data from the Danish wind turbine register over decades, and lessons learned from Vestas assets in Denmark.
Speakers:
A new mathematical method for detection and evaluation of wind turbine performance changes
Nicolai Gayle Nygaard
Senior wind energy analyst
DONG Energy (confirmed)
Utilising SCADA data to enhance the performance monitoring of operating assets
Keir Harman
Global Head of Practice of Asset Management and Optimisation Services
DNV GL (confirmed)
Experiences based on 35 years of calculation follow-up on energy production – including findings of analysis of data from Danish turbine register
Per Nielsen
Managing director
EMD International (confirmed)
Why all the fuzz about 'big data and big compute': Monitoring a massive fleet of turbines, and maintaining agility
Sven Jesper Knudsen
Senior Specialist, VPDC
Vestas (confirmed)
Tuesday 9 December 2014 – 11:45 – 13:30
Session 2: Real-world power performance
Session chair: Oisin Brady, Director, France, Natural Power Ltd.
Session description: The power performance of wind turbines is defined and measured according to standards that define a set of fixed and somewhat ideal conditions. Establishing the actual behaviour of turbines over the long lifetime of the projects and in sites of widely varying topographic and climatic complexity is however challenging. This session begins with a comprehensive review of how performance of turbines varies over time, where common assumptions regarding performance degradation are reviewed in the light of actual data. The session continues with a review of data mining techniques for detecting underperformance following which an insight is given into how performance analysis is performed on one of the world's largest wind portfolios. The session concludes with the progress and outcomes of the Power Curve Working Group, a comprehensive collaborative project to explore, categorise and define the performance of wind turbines across a variety of wind conditions.
Speakers:
Long-Term Performance of Wind Turbines
Michael Wilkinson
Head of Section – Asset Performance
DNV GL (confirmed)
Wind farm performance monitoring with advanced statistical methods
Niko Mittelmeier
Wind farm performance specialist
Senvion SE (confirmed)
How to find underperforming turbines in an operating wind farm
Xu Jia
Director, Wind Farm Operating Data Analysis Centre
Longyuan (confirmed)
Update on the works of the Power Curve Working Group
Peter Stuart
Senior Technical Manager
RES Ltd (confirmed)
Tuesday 9 December 2014 – 15:00-17:00
Session 3: Post-construction yield analysis
Session chair: Lars Landberg, Senior Vice-President, Innovation Manager, Head of Software Development – Renewables Advisory, DNV-GL
Session description: This session is about post-construction yield analysis, i.e. once the wind farm has been operating for some time and data collected, the real data is looked at and analysed. In this session we will see multiple examples of real data from operating wind farms. The speakers will share data and experiences from wind farms located around the world with many different wind turbine types as well. Different ways and tools to analyse the yield data will be described, and practical experiences shared. The session will also address ways to go from limited or shorter time series of production data to the expected long-term production, say on a 20-year scale. The presentations in the session will also address how real data can be used to reduce uncertainties compared to traditional pre-construction estimates. The use and usefulness of various types of reanalysis data will also be discussed. A final specific topic that will be addressed is that of predicting the availability of a given wind farm.
Speakers:
Which are the requirements to obtain a post-construction energy yield estimate with higher accuracy than the pre-construction estimate?
Sonia Lileo
Adviser & Branch Manager
Kjeller Vindteknikk (confirmed)
Integrating Disparate Data Sources to Assess the Performance Across a Fleet of Wind Turbine Generators

Bradley Johnson
Wind Plant Performance Engineer
EDF Renewable Energy (confirmed)
Post-construction energy yield analysis based on sub 12-month operating periods
Staffan Lindahl
Senior Engineer, Asset Operation and Management
DNV GL (confirmed)
A Time Series Comparison of Pre-Construction Energy Yield Model and Operational Data for 20 Wind Farms
Alex Clerc
Technical Post Construction Manager
RES Ltd. (confirmed)
Assessment of availability predictors
Daniel Marmander
Senior Wind Analyst
Natural Power (confirmed)
Wednesday 10 December 2014 – 09:10-11:00
Session 4: How to best extend life expectancy
Session chair: Christian Jourdain, head of marketing and communications, services, Gamesa
In the US, Denmark, Germany and Spain, more than 50% of the currently installed base will be over 15 years old in 2020, making life extension a real business opportunity, but also a technical challenge. To develop life extension solutions and guarantee a safe operation of wind assets, the industry has to understand aging mechanisms, using structural models and identifying aging contributors.
Speakers in this session will share their findings in the physics of failure approach, model-based reasoning, fatigue-dominant contributors in wind farms, combination of sources of data such as inspections, load- and SCADA-measurement data, numerical simulation and, finally, how this methodology can be certified.
Speakers:
Opportunity of a Lifetime – an integrated approach to asset life extension
Graeme McCann
Head of Loads Analysis
DNV GL (confirmed)
Presenting project on infrastructure longevity across industry sectors (final title to be confirmed)
Andreas Klenk
Head of Materials Behaviour Department
Stuttgart University (confirmed)
Quantifying Turbine Failure Risk with Physics of Failure
Chris Gray
Managing partner
Uptime Engineering GmbH (confirmed)
Case study: first case of life extension of an obsolete platform
Javier Góngora
R&D Project Manager & industrial Engineer
GAMESA (confirmed)
Wednesday 10 December 2014 – 11:45-13:30
Session 5: Innovative techniques for enhanced performance
Session chair: Jørgen Højstrup, CEO, Højstrup Wind Energy
It is a well-established fact that there is a general tendency for some wind farms to produce less energy than expected. Whereas some of the reasons for the underperformance can be found in the wind resource assessment which you cannot do anything about after the wind farm is built, there seems to be potential for significant improvements of the performance of existing turbines, in some cases by relatively simple adjustments of the operating behaviour of the turbines.
Because of the large amounts of variables influencing the power production, verifying whether the turbines are in fact producing less energy than they should is no simple matter. In this session we will look at different ways of identifying underperformance, finding the sources of the underperformance and finally fixing the problem.
One paper present a slightly different way of analysing power performance data, two papers deal with the analysis of large amounts of data from wind farms to identify underperformance and to find the sources of the underperformance, three papers shows measurements of some of the specific sources of underperformance, pitch angle misalignment and yaw angle misalignment.
Speakers:
Redefinition of Power Curves: Electric vs. Kinetic Power
Erik Tüxen
Global Practice Head, Power Performance
DNV GL (confirmed)
Maximizing Plant Performance: A Case Study in Diagnostic Techniques and O&M Strategy
Daniel Bernadett
Chief engineer
AWS Truepower (confirmed)
Energy Yield: Implementing a comprehensive performance optimization program at E.ON
Petros Paterakis
Fleet performance analyst
E.On Climate and Renewables (confirmed)
Automatic Pitch Misalignment Identification By Using Image Analysis Methods
Arne Löhn
Managing director
Morewind Engineering Solutions (confirmed)
Pointing to the right direction
Eduardo Gil Marin
Data Analyst Engineer
ROMO Wind (confirmed)
Cost-efficient improvement of energy production with the Windar LIDAR
Jørgen Højstrup
CEO
Højstrup Wind Energy (confirmed)