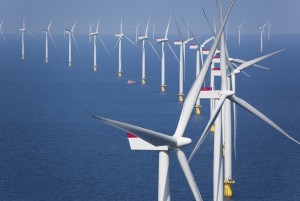 On Friday 30 January, EWEA released its annual offshore report containing key trends and statistics on the European offshore wind industry.
Last year, offshore wind energy delivered only 1 percent of Europe's electricity demand. The industry has the potential to contribute a far greater amount than that, but to achieve its potential, a great deal more wind farms and turbines will need to be financed and built.
There is promising interest in investing in the offshore wind industry. Last year, nine new projects reached the final investment decision stage, and four of those were billion-Euro projects. The EIB alone has provided nearly €1 billion to the offshore industry, and policymakers had a hand in almost all major transactions this past year.
To secure more financial support, the industry needs to show it can deliver on cost reduction. This will be the main focus of the conference at EWEA OFFSHORE 2015. Experts will be speaking on methods for reducing cost throughout the value chain in order to lower the CoE for offshore wind so the industry can take its place in a future of renewable energy.
EWEA publishes its European offshore statistics biannually. EWEA members get in-depth knowledge and direct links to EWEA's in-house team of experts. Find out more about EWEA membership benefits: http://www.ewea.org/membership/