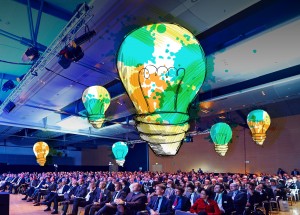 Offshore wind is now demonstrating its enormous potential as a scalable resource for Europe and the world. But, for the offshore wind industry to become fully competitive, it needs to bring down the costs across the whole of the supply chain.
At EWEA OFFSHORE 2015, 300+ presenters will share their expertise and insights on how to build a fully competitive industry for all.

Get the full event experience when you register as a 3-day conference delegate
24 conference sessions (high-level panel debates and technical presentations)
Access to 3 large exhibition halls, housing companies from across the entire supply chain
Over 200 technical posters (meet the authors during the networking drinks)
Access to onsite networking and social events
Lunch and coffee breaks included
Access to full conference proceedings (includes full papers, presentations, videos and audio recordings)
Cut your costs by planning ahead
Register as a 3-day conference delegate before 16 November and get up to 20% off.
See price list
And do not forget to book your hotel accommodation at preferential rates.