Mobile application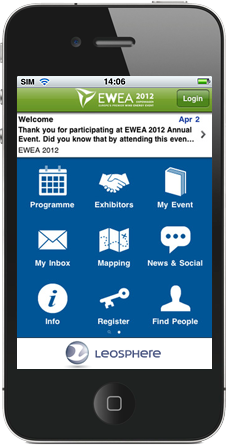 Get the buzz: EWEA 2012 Annual Event has its very own mobile phone app. Experience the wind industry's annual gathering in a new way!
Do you want easy access to the EWEA 2012 Annual event conference programme and exhibitor list wherever you are in the venue? How about up-to-the minute session notifications? And a floor plan of the exhibition that shows you exactly where you want to?
Big events can be confusing. But this year, a customised mobile application will be offered, free of charge, to all EWEA 2012 Annual Event participants in order to help you use your time in the most efficient way and get the most possible out of the event.
The service is optimised for Smartphone use (iPhone, Android and Mobile website) but is also available on all mobile phones that have internet capabilities.
Browse to m.ewea.org/annual2012 (or scan the QR code on the left) on your mobile device to download the EWEA 2012 Annual Event Mobile App.
Need a QR code scanner?
We recommend QR Reader (for iPhone) or QR Droid (for Android).