Practical information A - Z
Accommodation
Badges
Catering
Charging your electronic device at EWEA 2013
Charity business run
Cloakroom and luggage facility
Commercial opening hours in Vienna
Copy shop
Credit cards and cash
Emergencies
Entry requirements and visa application invitation letter
Exhibition
Insurance
Internet
Language
Lost and found
Maps
Media lounge
Meeting rooms
Mobile application
Networking tool
Opening hours EWEA 2013
Organisers' Office
Poster session
Press
Proceedings
Publication of the day
Registration information and onsite opening hours
Taxi
Telephone
Time zone
Tourist information point
Venue
Weather
---
Accommodation
Rooms at special rates in various hotels have been reserved for EWEA 2013 Annual Event in Vienna.
For group accommodation requests (minimum 4 rooms), please  fill in the group accommodation booking form or contact the EWEA 2013 Hotel Secretariat at [email protected].
Every effort will be made to satisfy group requests through customised offers, rapid action and a smooth reservation system.
Check the hotel list and book your room.
For any queries, please contact the EWEA 2013 Hotel Secretariat at [email protected] or +32 2 566 99 46
All rates are quoted in EUR, per night, per room, including breakfast, city tax and VAT (10%). Please note that these rates can also vary from 2 to 2.5 % (depending on VAT and city tax variation).
---
Badges
All participants are requested to wear their badges throughout the event. Badges are marked according to the type of pass purchased, and participants will not be admitted to the conference or exhibition without their badge. You may also be required to show your badge at some social events.
Should you lose your badge, please go to the registration areas for assistance. An administrative fee may apply for reprinting the badge.
---
Catering
Conference delegate passes only include access to the official lunch areas, which will be located Halls A & B.
Exhibition visitors and exhibitor staff interested in taking part in the official networking lunch should purchase tickets before the event through the registration page. This item will not be available on site.
Catering will be available in several dedicated areas at the following times:
Monday

Tuesday

Wednesday

Thursday

Welcome coffee
In the poster area
08:00 – 09:00
08:00 – 09:00
08:00 – 09:00
08:00 – 09:00
Coffee break
In the coffee break areas

-

10:30 – 11:00
10:30 – 11:00
10:30 – 11:00
Buffet lunch
In the lunch areas (Halls A&B)
12:30 – 14:00
12:30 – 14:00
12:30 – 14:00
12:30 – 14:00
Coffee break
In the coffee break areas
15:30 – 16:00
15:30 – 16:00
15:30 – 16:00

-
In addition, permanent coffee will be available for all participants in the coffee break areas (media lounge, cyber café) during the whole event. The permanent coffee area, including a Wi-Fi hotspot, is located in Hall A, stand A-K40.
Sponsored by 3Tier
Access to the lunch areas will be granted upon presentation of a lunch voucher only. Lost tickets will not be replaced.
Please note that it is possible to buy snacks and sandwiches in the visitor catering areas:
Visiting catering areas

Monday

Tuesday

Wednesday

Thursday

Atrium
(First floor, Congress Center)
10:00 – 18:00
10:00 – 18:00
10:00 – 18:00
10:00 – 14:00
Piazza
(First floor, Congress Center)
11:00 – 16:30
11:00 – 16:30
11:00 – 16:30
11:00 – 14:00
Uptown
(Hall B, first floor)
10:00 – 18:00
10:00 – 19:00
10:00 – 18:00
10:00 – 14:00
Pavillon
(Ground floor, between Halls A&B)
08:30 – 18:00
08:30 – 18:00
08:30 – 18:00
08:30 – 14:00
Please see the venue overview for the location of the location of the visitor catering areas.
Water bottles are freely available throughout the venue.
Sponsored by WKN
---
Charging your electronic device at EWEA 2013
Do you need power? Charge your electronic device at EWEA 2013.
Multiplugs are available to charge up your electronic devices at the Wind Iris lounge in the Mall as well as in the media lounge (Hall A) and in the cyber café (Hall B).
The Wind Iris lounge is sponsored by Avent Lidar Technology.
---
Charity business run
Do good to your business and yourself, take part in the EWEA 2013 charity business run. The participation fee is €25 which is donated entirely to EWEA's charity, Renewable World www.renewable-world.org. If you have not already done so, sign up at the registration desk.
Start: 5 February 2013 at 7:30 am sharp, at Äusseres Burgtor, the port entrance to the Heldenplatz.
Two loops of 5 or 10km will be available. The EWEA 2013 Business run is organised in cooperation with Flensborg and Associates and Danish Wind Industry Assocation.
---
Cloakroom and luggage facility
A cloakroom will be available free of charge in the foyer A downstairs.
---
Commercial opening hours in Vienna
Banks in Vienna are open from Monday to Friday from 08:00 to 12:30 and from 13:30 to 15:00, and until 17:30 on Thursdays. In the city centre, almost all banks are open over lunchtime.
Shops are open:
Monday - Friday 09:00 - 18:30
Saturday 09:00 - 17:00/18:00
Department stores and supermarkets usually stay open longer until 20:00 or 21:00 from Monday to Friday.
---
Copy shop
A copy shop, located in the mall is open: Monday - Thursday 9:00 - 17:00
---
Credit cards and cash
The unit of currency in Vienna is the EURO. Current exchange rates can be found at www.xe.com/ucc
Cash points are widely available. There is one ATM machine located in the registration area (main entrance, foyer A) of Messe Wien.
All major credit cards are widely accepted throughout Vienna in shops, restaurants, hotels etc. Some places might charge a fee when accepting foreign credit cards as payment. Be sure to bring your PIN code and a picture ID when using a credit card in Austria. Foreign exchange facilities can be found at the airport, railway station and major banks.
Theft/loss of credit card
| | |
| --- | --- |
| Eurocard-Mastercard | 0800-21-8235 |
| Visa | 0800-200-288 or 800-892-8134 |
---
Emergencies
| | |
| --- | --- |
| European emergency call | 112 |
| Fire department | 112 |
| Ambulance & emergency service | 144 |
| Emergency doctor | 141 |
| Night and weekend dental service | +43 1 512 20 78 |
| Pharmacies open nights and Sunday | 1550 or 1455 |
---
Entry requirements and visa application invitation letter
All visitors must be in possession of an identity card or a passport to enter Austria.
Who does not need a visa
Citizens of all countries of the European Union, Switzerland, Croatia, Israel, Japan, Australia, New Zealand, most of the countries of North and South America and some other countries do not need a visa, only a valid passport is required to enter Austria. In case of doubt, please contact your local Austrian embassy or consulate.
Who needs a visa
Travellers requiring a visa can travel freely throughout the Schengen zone for three months with a Schengen visa issued by any Schengen country.
Further information can be found on the website of the Federal Ministry for European and International Affairs.
(Current member countries of the Schengen treaty are Austria, Belgium, Czech Republic, Denmark, Estonia, Finland, France, Germany, Greece, Hungary, Iceland, Italy, Latvia, Lithuania, Luxembourg, Malta, the Netherlands, Norway, Poland, Portugal, Slovakia, Slovenia, Spain, Sweden and Switzerland).
Please contact your local Austrian embassy or consulate for further information.
List of embassies and consulates in Austria
Visa application invitation letter
Attendees must have registered and paid the required registration fees before requesting an official letter of invitation. All requests should be made during the online registration, which will be made available in September 2012. Please note that the organisers will not be able to contact or intervene with any embassy or consulate office on behalf of a participant.
---
Exhibition
Please visit the exhibition page for general information about the exhibition.
Not exhibiting yet? Contact the Sales Team: sales(at)ewea.org
For details about the exhibition build-up, stand construction etc. exhibitors should refer to the Exhibitor Manual or contact the Exhibition Operations team at exhibitionoperations(at)eweaevents.org, +44 2476 510015
---
Insurance
The organisers do not accept liability for individual medical, travel or personal insurance and participants are strongly advised to make their own arrangements regarding health and travel insurance.
---
Internet
Wireless internet access is freely available throughout the venue, using the following password:
Network: AVENT @ ewea
Password: nacelleLIDAR
Sponsored by Avent Lidar Technology
A Wi-Fi hotspot is also available in the permanent coffee break area (Hall A, stand A-K40).
Sponsored by 3Tier
A cyber café is also available in Hall B, providing internet access.
---
Language
The conference presentations will be in English.
---
Lost and found
Lost and found items can be recovered at the Organisers' office located in the Gallery room 9.
---
Maps
Map of the public transport network in Vienna
Messe Wien is easily reachable by metro (line U2). The entrance A of Messe Wien is located next to the station "Messe-Prater".
EWEA 2013 Exhibition floorplans
---
Media lounge
The media lounge, situated in Hall A, is the ideal place to relax with a cup of coffee and read about the hottest stories in the industry.
Visit the Media Partners page to check the list of official Media Partners and contact them directly to arrange a meeting.
---
Meeting rooms
If you reserved a meeting room and have any queries, please contact Aleksandra Nowak, tel: +32 22 13 18 00 or email: anw(at)ewea.org.
---
Mobile application
A customised Mobile App is offered, free of charge, to all EWEA 2013 participants to get the most out of the event. This service is optimised for smartphone use (iPhone and Android) but the mobile website is also available on all mobile phones that have internet capabilities.
Visit http://m.ewea.org/annual2013  to download the EWEA 2013 mobile app.
---
Networking Tool
EWEA's networking and private meeting scheduling tool helps participants to meet before, during and after your event. Individuals can search through the participant list, add people to their contacts, send messages and schedule meetings. You can use the networking tool on the device of your choice: desktop computer, tablet or smartphone. The networking tool is the best way to make new contacts and reconnect with old ones!
---
Opening hours EWEA 2013
Conference
| 4 February | 5 February | 6 February | 7 February |
| --- | --- | --- | --- |
| 08:00–17:30 | 08:00–17:30 | 08:00–17:30 | 08:00–12:30 |
Exhibition
| 4 February | 5 February | 6 February | 7 February |
| --- | --- | --- | --- |
| 10:00–18:00 | 09:00–19:00 | 09:00–18:00 | 09:00–14:00 |
---
Organisers' Office
This is located in the Gallery room 9.
---
Poster session
Hundreds of poster presentations will be available for viewing throughout the event in the poster area, located in the Mall and outside the conference room Stolz.
The dedicated poster session is an opportunity for all participants, delegates and exhibition visitors alike, to meet with the poster presenters and discuss the presentations in more detail.
A special scientific & research poster session will take place on Tuesday, 5 February at 14:00 outside the conference room Stolz. It will be followed by a poster session for all tracks at 15:30 in the Mall and outside Stolz.
Don't miss the poster award ceremony at approximately 15:45 where the best posters will be announced. For more information please see the conference programme.
---
Press
Press service
A fully-equipped press room will be at the disposal of journalists throughout the event. Computers, refreshments, background information and press packs will be available. An official press conference will take place on Monday 4 February and be part of the programme dedicated to journalists.
Online accreditation
Online accreditation allows journalists to register for EWEA 2013 in the run-up to the event. All press representatives who register in advance will receive regular updates with information by email.
For more information, please contact Peter Sennekamp, Media Officer, pse(at)ewea.org
---
Proceedings
A full four-day conference delegate pass includes free access to the online conference proceedings website published during the event. Pre-registered delegates will receive an e-mail with their login details to the proceedings on the first day of the conference. Delegates registered on site will receive the link shortly after the conference. The proceedings include all submitted abstracts and PowerPoint presentations, synchronised audio files, video files of selected sessions, poster presentations and full papers (where available).
Should you have any queries regarding the proceedings of this or other EWEA events, please contact Maura Di Ruscio: maura.diruscio(at)ewea.org
---
Publication of the day
From EWEA's magazine Wind Directions to EWEA's latest report on emerging markets, every day at EWEA 2013 has its 'publication of the day'. Pick up your copy at the EWEA stand (B-B40) or media lounge in Hall A.
---
Registration information and onsite opening hours
Registration opening hours:
| | |
| --- | --- |
| 3 February | 14:00 – 19:00 |
| 4 February | 08:00 – 18:00 |
| 5 February | 08:00 – 18:30 |
| 6 February | 08:00 – 17:30 |
| 7 February | 08:00 – 13:30 |
Exhibitors only will be able to pick-up their badge/materials as from 08:00 on Sunday 3 February 2013.
---
Taxi
A taxi stand is located in front of the main entrance (foyer A).
To call a taxi, please dial +43 1 40 100, +43 1 60 160 or +43 1 31 300.
---
Telephone
The international access code for Vienna is +43. Remove the '0' from the city/area code when dialling internationally.
We request that all conference delegates put their mobile phones on silent mode during all conference sessions.
---
Time zone
The time zone in Vienna is GMT + 1hr during the month of February.
---
Tourist information point
Vienna Tourist Information
1st district, city centre
Albertinaplatz, corner of Maysedergasse
Tel. +43 1 24 555
Email: info(at)wien.info
Website: http://www.wien.info/en
Opening hours:
Daily from 09:00 to 19:00
---
Venue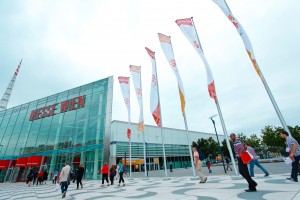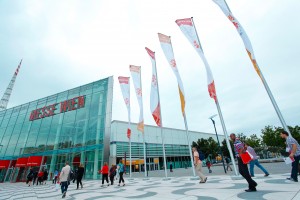 Further information about Messe Wien Exhibition & Congress center can be found at www.messecongress.at
Messe Wien Exhibition & Congress Center
Messeplatz 1
1021 Wien
Austria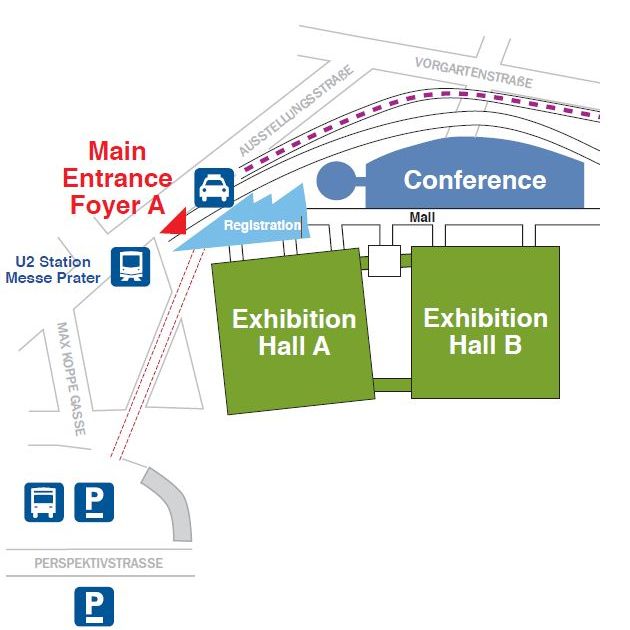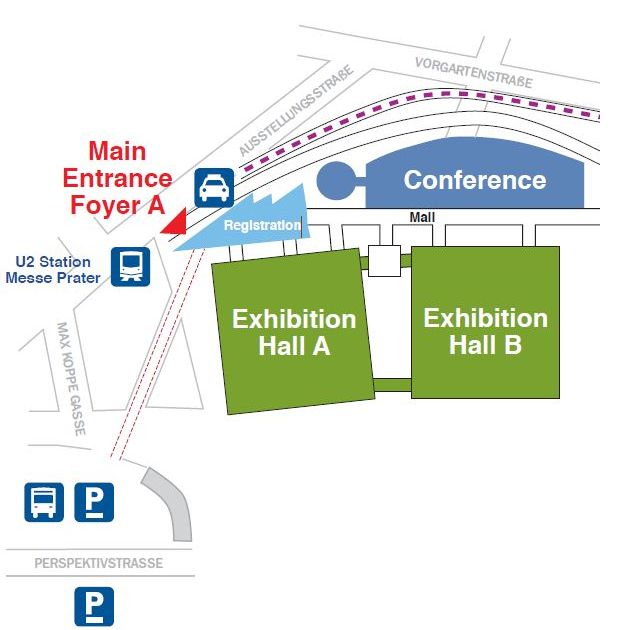 Download the venue overview.
---
Weather
Vienna has a continental climate. For Vienna weather forecast, please visit: http://www.wien.info/en/weather
---