Conference dinner
Wednesday 6 February, 19:30 - 23:00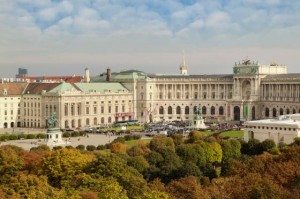 Venue: The Hofburg, Heldenplatz, 1014 Vienna
Dress code: formal
This exclusive seated dinner is sure to be the most popular evening of EWEA 2013 Annual Event. Professionals from the wind industry will get the chance to meet over an excellent meal and enjoy an evening of unforgettable entertainment.
This year's dinner will be held in the historic Hofburg. Built as part of the city's medieval fortifications, The Hofburg is the Habsburg's former imperial residence.
Due to its unique architecture and history, the Hofburg is the perfect setting for the EWEA 2013 conference dinner. This event typically sells out so book your ticket early and don't miss out!
You can upgrade your registration with a conference dinner ticket, either during the online registration process, or by accessing your registration account and clicking on the "Upgrade" tab.
Add this event to your calendar
Sponsored by: