Sponsorship opportunities
Move ahead of the competition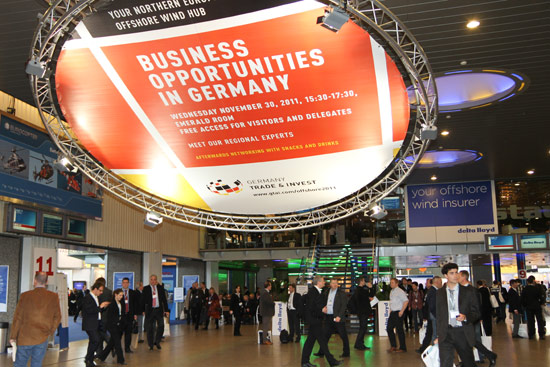 This international event provides an excellent opportunity to reach over 10,000 international wind industry professionals and ensure high brand visibility tailored to your requirements. From large banners to social events and event materials, this event provides a wide range of sponsorship opportunities to raise your company profile.          View Sponsorship Catalogue
Why sponsor an EWEA event?
Showing interest in the industry
Becoming a sponsor of this event will ensure that your information is placed at the forefront for all participants to see. Sponsors have the ability to communicate their message and increase brand recognition by supporting this event and showing their interest in the path that the industry will be taking in the future.
Positioning for the future
Wind energy has been growing very strongly over the last ten years to the point where it is a mainstream power generating technology. Many of the leaders that choose to sponsor this event find that they are well positioned to demonstrate their capacities in supplying services, products, and tools to participants in this fast growing industry.
Networking opportunities
Sponsors have the ability to network with the leading companies in the industry. With 13,000m2 of exhibition space and more than 10,000 participants expected, a host of learning and networking events, sponsors will receive prominent recognition for their support of the event. This acknowledgement of their leadership role will be remembered by the participants of the conference long after the event is over.
EWEA 2013 Sponsorship Opportunities
Take advantage of the special promotional and branding opportunities designed to create awareness:
Reception Parties
Conference Dinner
Lunch and Coffee areas
Indoor and Outdoor signage
Event materials
Event facilities
Reaching Wind Industry Professionals
The EWEA 2012 Annual event attracted a record breaking 10,600+ participants coming from Europe and beyond. EWEA 2013 is expected to be attended by over 10,000 wind energy industry professionals from across the globe.
Contact
Discover the full range of sponsorship opportunities, along with the benefits and reach provided. To discuss sponsorship opportunities that can be tailored to fit your marketing objectives, contact:
Sales Team