EWEA networking event
Tuesday 5 February, 17:30 - 19:00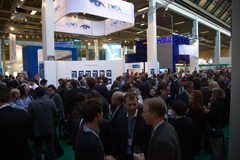 Messe Wien, hall B, EWEA (B-B40) stand
¡Hola! ¡Vamos de fiesta al 'stand' de EWEA!
To introduce EWEA 2014 Annual Event that will take place in Barcelona, 10-14 March 2014, all attendees are invited to gather at our EWEA stand and have a drink.
This is a great opportunity for you to meet the EWEA team and find out more about the many other EWEA activities. For example, did you know?
Revenues from EWEA events and membership are reinvested in the industry, making EWEA's policy and lobbying activities possible. By attending EWEA events you are directly funding the industry. Your money goes further than you think!