EWEA 2013 event to be labelled WindMade!
EWEA 2013 Annual Event in Vienna is the second EWEA event to be labelled by WindMade as being 100% powered by wind.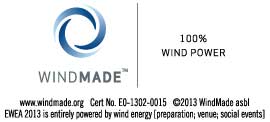 The total electricity consumed at the event will be procured exclusively by wind power. This includes the six month long event preparations at the EWEA offices, the power usage at the Messe Wien and electricity used at the social events (receptions and conference dinner).
In order to cover 100% of the electricity used for EWEA 2013, EWEA has committed to procuring an equivalent amount of GoldPower, a high-quality energy based product. The power comes from wind farms in developing countries (with no Kyoto targets), thereby demonstrably stimulating investments in new capacity.
This commitment is compliant with the requirements set out in WindMade's 'Events Standard'.
For more information on the WindMade initiative, see www.windmade.org or contact [email protected]