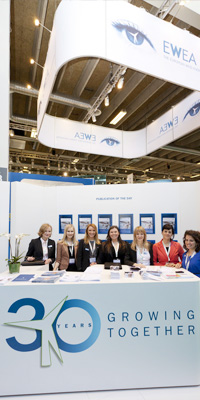 The European Wind Energy Association (EWEA) based in Brussels, Belgium has represented the interests of the European wind energy industry for more than 30 years.
On the one hand, EWEA is the voice of the wind industry, actively promoting wind power in Europe and worldwide, to the general public, political decision-makers, businesses and universities. But first of all, it is a service provider to 700 members from almost 60 countries. With its in-depth knowledge of the industry, EWEA informs its members with its expertise, provides advice, and supports them.
It is EWEA's objective to strengthen the development of European and global wind energy markets, infrastructure and technology in order to achieve a more sustainable and cleaner future. To this end, EWEA organises two of Europe's leading events for the wind energy industry: EWEA 2014 Annual Event and EWEA OFFSHORE 2013 taking place in Frankfurt (19 – 21 November 2013) as well as seminars and workshops.
Committed to supporting the industry, through these events, EWEA aims to provide the international wind energy community with a platform for international business, opportunities for networking and a meeting place to exchange knowledge and expertise.
As a non-profit organisation, revenues from EWEA events and membership are reinvested in the industry and used to fund EWEA's policy and industry advocacy efforts, coordinating research and analysis for the industry.