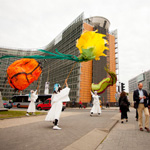 A colourful display of flowing, tasselled lanterns, undulating kites that look like clouds racing across the sky, and an airy gymnastic performance to match, is taking place in the heart of Brussels' EU quarter today.
The context is Global Wind Day – 15 June – when all around the world events are taking place in honour of the power that resides in the wind – power that creates electricity and can bring us a greener future free from dependence on polluting and expensive fossil fuels.
Crowds gathered to watch the performance and receive a 'seeded leaflet' explaining the benefits of wind energy for our climate, our job market, for energy independence from imported fossil fuels and for the amount of water for cooling wind energy needs: zero.
Anyone who received a leaflet can now plant it, water it, wait a while, and watch seedlings emerge and grow into an array of brightly coloured flowers – symbolic of the greener future wind energy promises.
Global Wind Day is happening today across the globe. Here on this blog we have reported on events in Austria, New Zealand, Australia, Finland, Portugal and Canada. Tonight we will be reporting on the public debate taking place in Brussels on EU energy policy post-2020, and over the coming days we'll bring you news on events including the opening of a wind energy exhibition at Berlin's Technical Museum, a film launch in London, a wind farm open day in Belgium and the unveiling of a new commercial standard for products made using wind energy – WindMade TM – in New York.
Read more on events in your country here and check back to the EWEA blog for more windy reports.