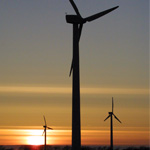 Just last week the Canadian Wind Energy Association, CanWEA, issued a report showing that wind energy developments in Ontario, Canada's most populated and second largest province, will create more than 80,000 person years of employment and attract more than €11.4 billion in private sector investments in the next eight years.
And this week, Canada will be hosting its very own Global Wind Day festivities.
A tour of an Ontario wind turbine manufacturing plant followed by a visit to a nearby operating wind farm are among the Canadian events on Wednesday. Expected among the guests is Energy Minister Brad Duguid, who is responsible for implementing the province's landmark Green Energy Act, a critical component of the government's plan to create a new green economy for Ontario.
There will also be an escorted tour of the nearby Mohawk Point Wind Farm, which features six 1.65 MW turbines, CanWEA said. Owned by International Power, the Mohawk Point Wind Farm was one of the first projects built under Ontario's Renewable Energy Standard Offer program.
"Wind energy's growing contribution to Ontario's electricity supply is making Ontario a leader in green energy production, and bringing jobs and economic opportunities to local communities," CanWEA says.
For more information on Global Wind Day, click here.
For more information on wind power in Canada, please visit CanWEA.