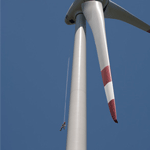 All over the world wind energy enthusiasts are preparing for Global Wind Day on 15 June 2011. In Austria, activities have already started!
As the first of 15 events, brave journalists were able to abseil from an 86m high wind turbine run by the company Ökowind in St.Pölten-Oberwagram.
Karl Weiss, managing director of Ökowind, is a real wind energy fan: 'Wind energy is just great! Our wind turbine produces clean electricity for over one thousand households – and directly in St. Pölten, it is just brilliant!'
The professional climbers from the company Skylotec helped the journalists from Austria abseil from the wind turbine. Dr. Kai Rinklake, managing director of Skylotec explains: 'A good head for these sorts of heights is necessary for all our wind energy technicians and maintenance workers.'
In total, Austria is hosting 15 events for Global Wind Day. The exciting programme goes from tombolas, wind park hikes and open wind farms to driving electric vehicles. The main event organised by IG Windkraft will take place in St. Pölten-Stattersdorf on Wednesday 22 June. For the first time it will be possible to visit a small wind turbine that could be used in anyone's s garden.
'Austria has been one of the most active countries in regards to Global Wind Day during the last year. It is great that they start off their activities with such a spectacular event. We are sure that events all over the world will follow that example in the next three weeks', says Julian Scola, Communications Director at EWEA. All events organised around the globe can be found on www.globalwindday.org .
More information on Global Wind Day and wind energy in Austria: www.tagdeswindes.at
More information on Global Wind Day: www.globalwindday.org