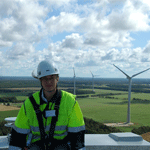 By Anni Mikkonen, Finnish Wind Power Association
2011 has already been a big year for wind power in Finland since the Finnish government finally adopted a feed-in-tariff – a policy designed to increase the level of renewable energy. This tariff has already inspired Finnish facilities and project developers to plan wind energy projects. We are expecting several projects to be built in 2012. The Finnish wind energy sector is increasingly active, and so is the whole country for Global Wind Day 2011: This year there are many events around the country.

Global Wind Day will start one day ahead of schedule on 14 June with a press conference in Helsinki. At the press conference we will announce the results of research carried out in spring 2011 which involved asking municipal decision makers (authorities, politicians) their opinions about wind energy.  We also tested their knowledge on wind energy – for sure some very interesting results will be announced!
The main event of the day will be organised in Helsinki, in the Kamppi Shopping centre. All the people that arrive by bus to Helsinki will walk through the area where the stand is – this means that there are thousands of people passing by, and also stopping at, our stand during the day.
A famous Finnish journalist, Baba Lypeck, will guide the audience through the day. She will for sure ask the organisers of the day – the representatives of NGOs, companies and politicians – some very interesting questions about wind energy! The biggest celebrity of the day is Jari Sillanpää, a famous singer who will open a 3 MW turbine up in Raahe this summer. We are sure that there are many people who are willing to hear why he decided to invest in wind energy. And on top of everything we'll have a theatre performance on wind energy myths – including a blind date with a (female) electricity buyer and (male) turbine!
The other events during the day include an information stand in the shopping center in Vaasa organised by the Energy Institute of Vaasa, a wind energy celebration in Lapua organised by Thermopolis, a local energy office, and an energy day focusing on small scale wind energy in the isle of Harakka just outside Helsinki.
If you are based in Finland, or will be visiting next week, come and join us for Global Wind Day! Find out more by zooming in on Finland on this map on the Global Wind Day website.