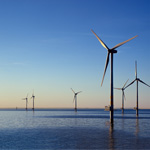 An overwhelming majority of the public in the UK approve of the government providing financial support for renewable energy technologies, according to a new survey. The YouGov poll for the Sunday Times found support from across the political spectrum, with Conservative, Labour, Lib Dem and UKIP voters all agreeing that the government should continue investing in low-carbon technologies.
The survey found 65% of respondents in favour of government spending money for wind power, while 76% said the same for tidal energy and 78% backed financial support for solar. In comparison, only 49% approved of public financial support for nuclear, 57% for clean coal and just 40% said the government should provide support for shale gas. 47% of respondents considered shale gas projects as damaging to the environment.
Despite this, Chancellor George Osborne recently revealed tax breaks for the fracking industry, with a 30% tax rate for onshore shale gas production, much lower than oil taxes. Osborne called his new tax regime "the most generous for shale in the world".