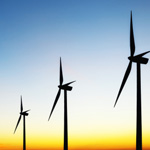 Interest in the ambitious EU research programme Horizon 2020, which begins in January and is open to different aspects of the wind power sector, continued to build last week in Brussels during a seminar organised by EWEA.
The seminar for EWEA members was held after the European Commission presented calls for projects under Horizon 2020, the European Union's €80 billion research and innovation program. Worth more than €15 billion over the first two years, the funding is intended to help boost Europe's knowledge-driven economy, and tackle issues that will make a difference in people's lives.
Vilma Radvilaite, EWEA's EU Budget and Research Advisor, said about 50 people attended the seminar which canvassed, among other things, new funding opportunities for research and development in the wind power industry.
Radvilaite said in an interview that Commission representatives explained in detail the possibilities for wind energy sector to apply for EU funding under the renewable electricity call, marine and maritime, grids, and storage.
In addition, she said, attendees learned about application procedures, financing rules, and the differences between the previous EU research programme FP7 and Horizon 2020.
Radvilaite said that the development and innovation of both onshore and offshore wind energy technology is crucial to reduce the costs of electricity, to increase the reliability of the technology and to provide to the EU a green solution to its energy challenges.
"The recently agreed Horizon 2020 program offers a budget of about €5.9 billion for non-nuclear energy projects in the next seven years," she said. "It will be a key EU program providing financial support to wind energy technology development by 2020."
Radvilaite added that public support for research and innovation activities will be critical in the future as wind energy is strategically important to helping the EU achieve 2020 climate goals and transform its energy market by mid-century.