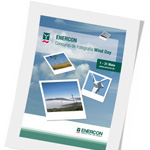 By Vera Costa, Enercon
In celebration of Global Wind Day, Enercon will hold a photo exhibition in Viana do Castelo – a historic and beautiful town in the north of Portugal.
During the month of May we invited keen photographers to take iconic pictures of wind turbines and we are now looking forward to displaying the results! The photo exhibition will be open from 15 June (Global Wind Day) until 19 June, and the winner can expect to receive a €500 prize. We will also present a second and third prize for the next most eye-catching pictures.
On Global Wind Day we will host many educational events for children about wind energy. Children are our future and we believe it is very important to teach them ways our society can become more sustainable and climate-friendly, and wind energy is a vital part of this!
For more information on our event, zoom in on Portugal on this map, or send us an email: [email protected] We look forward to seeing you in Viana do Castelo!