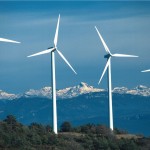 Reviewing a year's worth of work can focus the mind on important developments. That seems especially true for wind power, which in 2010 was embraced by, among other organisations, Ikea, Google, Bacardi and the US Army.
With those eclectic endorsements in mind, here are 10 developments from 2010 that have stuck with me:
1. Thumbs down to the US Senate for killing off a modest climate change bill due to partisanship and lobbying by narrow self-interests. Thumbs up, though, to Energy Secretary Steven Chu and Interior Secretary Ken Salazar, who are both big promoters of wind energy.