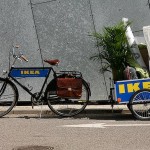 Be it a flat-pack chest of drawers or bedside lamps, most of us have bought something from Ikea. And now, the Swedish chain well-known for creating a revolution in home furnishings is at the forefront of a hopefully incoming tide of companies to back wind power.
Ikea has bought six German wind farms, adding to its portfolio of four French wind farms purchased last year and bringing the total number of wind turbines the company owns to 52. The German farms provide enough electricity to power 17 Ikea stores, and in total the firm can now meet10% of its electricity needs with wind power.
The Financial Times reports that Ikea intends to make further investments in wind and solar power in order to meet its long-term goal to secure all its electricity needs from renewable sources.
"We are conscious of our impact on people and the environment, so we feel duty bound to act responsibly in all we do," Mikael Ohlsson, Chief Executive of Ikea, told the paper.
However, Ikea's green credentials were tarnished last year when the company was found guilty by French courts of building a new storage unit close to Marseille on envrionmentally sensitive land, Spiegel Online reports.
Ikea joins Google – another company that has invested in wind power. In May, the internet giant invested in two wind farms in the US that generate 169.5 MW of power, enough to provide electricity for more than 55,000 homes.