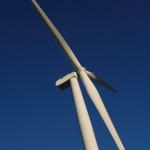 As the first wind turbine installed at a US Army base was excitedly celebrated last week in the western desert of Utah, officials at the ribbon-cutting ceremony were already contemplating an expansion of the emissions-free technology.
According to the Army, which is currently fighting two wars and looking to make budgets as efficient as possible, the 80 metre tall turbine with its 38 metre- long blades will result in energy savings of about $207,000 (€165,000) a year. Officials estimate that  the  wind energy produced can supply approximately one-quarter of the Tooele Army Depot's electricity needs.
"I felt like it was Christmas morning all day," base energy manager Jay Weyland was quoted as saying after watching the turbine officially turn on Wednesday. "Imagine a young child that had been shaking Christmas presents for weeks before Christmas, and was finally allowed to open them. That was the type of excitement I was experiencing."
Depot commander Col. Yolanda Dennis-Lowman said the base, which stores and develops munitions, is trying to embrace renewable energy solutions. "Going green will enable us to remain always at the ready," said Dennis-Lowman. "This is the first turbine for the depot, but with [Weyland's] help, hopefully more will come."
"From the power output that we are seeing right now, I can see we are going to get a higher payback then we anticipated and I believe other turbines here will be justified," Weyland reportedly said.
Completed a year ahead of schedule, the Army says the turbine was turned on and off for training and maintenance from 29 June to 6 July but still generated electrical power for about 52 hours. During that time, the turbine generated approximately $2,000 (€1,959) worth of electricity.
"Right now this is the only one in the Army, but it is going to be the test case for many other wind turbines throughout the United States," Dennis-Lowman was quoted as saying in the Tooele Transcript Bulletin. "We hope to see more installed here at this installation."
Approved in 2007, the $3.8 million (€3.03 mn) project was funded by the Army Energy Conservation Investment Program.