A press release issued Wednesday by Bacardi Corporation indicates that those Mojitos you sip in the future just might be influenced by balmy Caribbean breezes harnessed by two new wind turbines installed in Puerto Rico.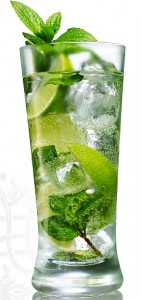 A favourite of author Ernest Hemingway, among others, the Mojito is made up from white rum, lime, cane sugar, mint, soda water and crushed ice. As anyone who has ever been to the Caribbean knows, the zesty cocktail seems to provide instant refreshment from the glaring, unrelenting sun.
A world leader in rum production, Bacardi was founded in San Juan, Puerto Rico, in 1936, and is part of Bacardi Limited, the largest privately held spirits company in the world. The current facility was built in the town of Cataño.
"While many know Bacardi for great rums and cocktails, Bacardi also has been a leader in corporate responsibility and environmental progress.  We're always looking for ways to help the environment and reduce our carbon footprint," Joaquin Bacardi, president and chief executive of Bacardi, said in a press release. "Our latest innovation with these two specialized wind turbines seizes the power of the wind adding more force to Bacardi's overall environmental commitment to save energy."
While the two Bacardi wind turbine units are small at 250kW each, they are expected to generate approximately 1,000,000 kWh of electricity per year accounting for three to seven percent of the power used by Bacardi. That's roughly the consumption of the facilities tourism-related activities at its Casa Bacardi Visitor Center with an expected carbon offset of more than 900 tons of CO2 per year.
"Puerto Rico relies on fossil fuels for virtually all its energy, so we hope other companies will follow this great leadership by Bacardi to use wind energy and other renewable energy sources," Puerto Rico Governor Luis G. Fortuno said in the press release.
Wednesday's announcement by Bacardi should provide some welcome buzz in Warsaw as participants at the European Wind Energy Conference gather to toast the power of wind. Don't forget to stir.