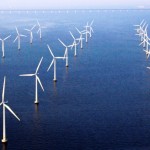 Wind generation now meets a significant percentage of electrical demand globally  and last year the world added a record 44.8 gigawatts (GW) of wind power, bringing the total to more than 282.5 GW, according to the International Energy Agency (IEA).
In its annual report for 2012, the IEA said that the global wind power capacity now operating in 100 countries can provide more than 3% of the world's electricity demand.
The report noted that the IEA believes that 15% to 18% of global electricity can be met by wind energy by 2050.