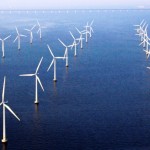 Wind generation now meets a significant percentage of electrical demand globally  and last year the world added a record 44.8 gigawatts (GW) of wind power, bringing the total to more than 282.5 GW, according to the International Energy Agency (IEA).
In its annual report for 2012, the IEA said that the global wind power capacity now operating in 100 countries can provide more than 3% of the world's electricity demand.
The report noted that the IEA believes that 15% to 18% of global electricity can be met by wind energy by 2050.
Governments and industries support wind power, the report said, because it increases domestic energy supplies, reduces greenhouse gas emissions, and replaces coal-fired and nuclear generation.
The report said record increases in capacity last year were reported in Australia, Austria, Finland, Italy, Mexico, Norway, Sweden, the United Kingdom, and the United States. It also said that more wind capacity was added last year than in 2011 in 13 countries: Australia, Austria, Denmark, Finland, Germany, Italy, Korea, México, the Netherlands, Norway, Spain, Switzerland, and the United States.
In terms of economic impact, the report said wind energy development creates employment and economic activity. "A study in Australia estimated that a 50-MW wind farm could contribute up to 2.6% to the gross regional product," it said, adding "a Canadian study estimated that 1 GW of new wind energy creates 10,500 person-years of employment."
Meanwhile, a different IEA report provides a clear step-by-step methodology for academics, system operators and policy makers on how to evaluate impacts and benefits of getting wind power onto the grid.
The report was issued recently as an IEA Wind Recommended Practices document to provide research institutes, consultants, and system operators with the best available information on how to perform a wind integration study.
Ivan Pineda, a Research Officer in EWEA's Policy Analysis division, described the document as being extremely important in the context of wind power being blamed in some places for causing more problems than benefits.
"This report compiles scientifically how the way we integrate wind power in the grid has a big impact in its economic performance, not only for system operators but also for other grid users," Pineda said. "By learning from past experiences and studies on the integration of wind and applying state-of-the-art methods, wind power integration can be facilitated and better assessed."