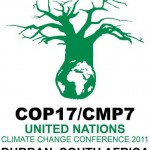 After lengthy and volatile negotiations in Durban at COP-17 — the United Nations climate change conference — a deal of sorts was reached in the early hours of Sunday 11 December.
Exhausted negotiators were able to hammer put a last-minute climate agreement that would see both developed and developing nations reduce toxic greenhouse gas emissions, caused mostly by burning fossil fuels.
According to a UN press release, the agreement would see governments adopting a universal legal agreement on climate change as soon as possible, but not later than 2015. The new agreement would not come into effect until 2020. In the meantime, the already lacklustre Kyoto Protocol would be extended by up to five years until the new legally binding agreement is adopted.