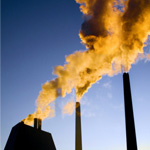 The European Commission must propose legally binding 2030 targets on carbon reductions, renewables and energy efficiency, Eneco, Dong Energy and Scottish and Southern Energy – energy utilities from the Netherlands, Denmark and the UK – have said in a joint declaration.
On 13 December the Commission is set to publish its draft legal proposals on its EU energy roadmap 2050 and an ambitious Second 'Climate and Energy Package' must follow, the trio said.
"It is essential to bridge the policy gap between 2020 and 2050 in order to allow the industry to create a sustainable and affordable pathway to reach the EU's objective of 80-95% carbon emissions reduction by 2050," their statement said.
"The power industry requires long term predictability of the EU's commitment on the decarbonisation of the energy system, in order to make the necessary investments in technological innovations and the low carbon energy supply chain to bring down the costs", the group outlined.
2050 is just one investment cycle away: strong political guidance is needed if we are to make the right decisions now in time to keep to the 80-95% CO2 reduction target.
The call for legal 2030 targets is gaining momentum: EWEA has long supported the idea, last month BirdLife Europe called for a 2030 renewable energy target, the European Renewable Energy Association and Connie Hedegaard, European Commissioner for Climate Action are among those to back the call.