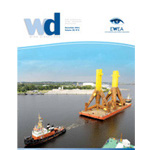 It's all happened so fast. A few years ago we used paper filing systems and looked up information in books. Now we have the internet and its wealth of information literally at our finger tips.
More and more wind energy companies are catching on, setting up blogs, Facebook accounts, Twitter feeds. But do we know what we're doing? Does it have an impact? And is the impact worth the effort?
EWEA's own blog was set up in 2010, and is updated four times a week. As word has spread, so has our number of readers, which now numbers around 2,500 amonth.  Other wind energy blogs include Tuuleenergia from Estonia, and RenewableUK's blog.
But blogs are relative old-comers compared to networking social media sites. In fact, social media has surpassed porn as the number one activity on the internet. If Facebook were a country, it would be the third largest in the world in terms of population. And on Twitter, 600 million searches happen every day.
Currently, EWEA uses Facebook, Twitter, LinkedIn, YouTube and Flickr. We have around 2,700 fans on Facebook, some of whom regularly comment and 'like' our posts; around 4,500 followers on Twitter and nearly 3,500 members on our LinkedIn group.
Philippe Magry from Myagy, a digital communications agency set out the choices for the wind industry: "The industry can watch the conversation take place, or it can own and guide it. In the process, this creates a much needed volunteer marketing army."
Social media allows the industry to take a certain control of the conversation.
"Many people do not know much about renewable energy, or even worse, they are misinformed," says Rob van Alphen from LBi, a digital marketing agency. "Social media can help share knowledge and change perceptions," he says.
Read the full article in the latest Wind Directions.