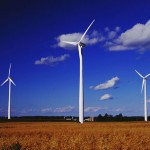 Installed wind power capacity continued to grow around the world last year despite the ongoing financial uncertainty with Europe remaining the number one regional leader, according to a new report.
Europe's installed wind capacity increased by 10,281 MW to 96,616 MW by the end of 2011, the Global Wind Energy Council's (GWEC) annual statistics show. In the EU, the new total was 93,957 MW.
Asia was the second place regional leader with 21,298 additional MW of installed wind capacity, bringing its cumulative total to 82,398 MW. North America was in third place with an additional 8,077 MW last year increasing its total capacity to 52,184 MW.