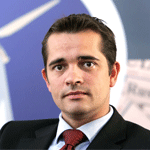 Last week an article was published in the Financial Times exploring the potential threat Chinese wind power technology poses to the European wind power industry. The article (published 29 August) points out that Chinese turbine manufacturers are now among the world's top 10 turbine makers and that China is putting up wind turbines at the rate of one turbine per hour.  And it's not just the Chinese wind power sector that is expanding on the global stage, but South Korea, Japan and others.
While the article highlighted the Chinese challenge to European leadership in wind power, it is important to note that competition that will further improve wind power's cost competitiveness against wind power's "true" competitor – electricity from polluting coal and expensive nuclear power – is a good thing.
In a letter to the Financial Times (published 5 September) I also said that the Chinese market for wind power presents opportunities for the European wind turbine industry as well as for European component manufacturers, consultancies, research institutes and developers. In 2010, European turbine manufacturers had an 89% share of the EU market, a 32% share of the US market, and an 8% share of the huge Chinese market.
Additionally, due to transport costs and logistical issues, it is unlikely that manufacturing turbines for use in Europe would relocate to China, particularly as Europe has a strong market for wind power and a stable policy framework supporting the development of renewable energies.
However, the lack of a stable policy framework in Europe beyond the current target to reach 20% of energy from renewables by 2020 is where cracks could appear in Europe's current global wind power leadership. We need a binding renewable energy target for 2030 if Europe is to stay ahead of the game. Due to the long investment cycle in the power sector, this target must be in place within the mandate of the current European Commission and Parliament – by the end of 2014.
With the right policies, the EU can provide a strong signal to European industry that we are in this competition for the long-term. That way we can maintain and even improve the global position of European wind energy companies.