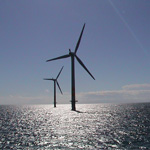 One of the most interesting news items in the past week was a report that energy-challenged China is planning to rapidly boost its offshore wind sector to 30 GW by 2020.
According to the nation's National Energy Administration, China will increase its offshore wind power installed capacity to 5 GW in the next five years and create a complete technology and industrial chain to service the growing sector.
In a report carried by the People's Daily Online (PDO), a renewable energy strategy in the nation's 12th Five-Year Plan indicates China's offshore sector is about to enter "a phase of large-scale development."
Although China overtook the US last year as the nation with the most installed wind power capacity, reaching 43 GW in total, almost all of that was generated from its onshore sector. China's first offshore project — the East Sea Bridge Offshore Wind Farm — began generating 102 MW when it went into operation in June 2010.
By way of comparison, offshore European wind power added a total of 883 MW last year, bringing the EU's cumulative offshore capacity to 2,946 MW.
The PDO report quoted Liu Qi, deputy director of the National Energy Bureau (NEB), as saying that offshore wind power is the frontier of the development of global wind power.
Liu also said China's enterprises must reach the international advanced level in offshore wind power.
The report said the NEB will launch preparation work for the second public bidding on offshore wind power concession projects later this year and is scheduled to complete the bidding in the first half year of 2012.
In a related development, reNews Europe reported that Siemens received an order for 21 2.3 MW turbines that will be used for an offshore project in Jiangsu province in China.
The project, signed with a subsidiary company of China Longyuan Power Group Corporation, is expected to be operating by the end of the year.
The report added that the project is Siemens' first offshore power order from China.
Jens-Peter Saul, chief executive of Siemens wind division, was quoted as saying the company sees "good opportunities for offshore wind power in China with its shallow water near the consumption centres on the coast."