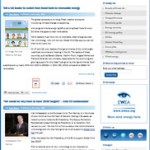 Would you like to see a greater variety of stories and/or authors on the EWEA blog? Or do you think the blog's appearance could be improved? Tell us what you think – both good and bad – about the EWEA blog, and we'll enter you into the draw to win a €100 Amazon voucher!
Click here to take the survey.
Survey closes midnight on 17 May.