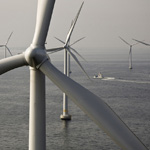 The launch of 'Deep Water: the next step for offshore wind energy' saw an enthusiastic media focus on the idea that offshore wind could provide Europe with enough electricity to power Europe four times over. The headlines were impressive, but that offshore wind holds massive potential for Europe is not news for anyone following the wind industry.
As long ago as 2008, when far less than the current total of 6,040MW of offshore capacity was installed in Europe, the European Commission said that "offshore wind can and must make a substantial contribution to meeting the EU's energy policy objectives through a very significant increase – in the order of 30-40 times by 2020 and 100 times by 2030 – in installed capacity compared to today."
EWEA has projected that offshore will see 40 GW installed capacity by 2020, equivalent to 4% of EU electricity demand, and 150 GW by 2030, meeting 14% of EU electricity demand.