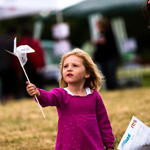 By Jessica Anania
The countdown to Global Wind Day marks more than just a wait for a fun-filled day spent outside discovering wind energy. It is also a chance for the public, politicians, and industry officials to discuss wind energy and its benefits, sharing ideas, exchanging opinions, and deepening their knowledge and understanding along the way.
Across Europe, wind farms are open, wind energy is the theme of festivals and wind energy information points will be set up across the continent from Lisbon to Warsaw.
In Denmark, Folkemødet, an annual political conference of over 30,000 participants and 1,300 events spanning four days, coincides with Global Wind Day.
"For the Danish Wind Industry Association (DWIA), Folkemødet was the obvious place to incorporate Global Wind Day due to the nature of Folkemødet and the philosophy of Global Wind Day, where it is about bringing knowledge of wind to the public," stated Anders Mika Dalegaard, Head of Events at DWIA.