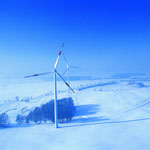 So much wind energy is now being generated in the US that the emissions-free electricity-generating technology may seriously erode the nation's nuclear power and coal sectors, the Bloomberg news agency reported Monday.
Headlined "nuclear industry withers in US as wind pummels prices," the story interviewed utility experts talking about the state of the American energy sector after the nation's wind power industry grew by about $25 billion last year.
The story noted that a significant part of that growth occurred as wind-related companies made sure they would qualify for the Production Tax Credit (PTC), the industry's main tax incentive, which was due to expire at end of 2012. The PTC has since been extended.
"The surge added a record 13,124 megawatts of wind turbines to the nation's power grid, up 28% from 2011," the story said. "The new wind farms increased financial pressure on traditional generators such as Dominion Resources Inc. and Exelon Corp. in their operating regions. That's because wind energy undercut power prices already driven to 10-year-lows by an abundance of natural gas."