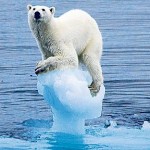 Another annual United Nations conference on climate change has ended and international negotiators once again failed to agree to a new treaty on reducing global greenhouse gas emissions from burning fossil fuels.
Countries gathering the past two weeks in Warsaw made earnest speeches, said they understood the challenge that humans face from increasing levels of carbon in our warming atmosphere and then, as at past conferences, they did very little to address the increasingly complex problem.
The end result — a weak agreement to continue working towards a pathway for a new global legally-binding climate change treaty by 2015 — was more than frustrating since there are already proven alternatives to using coal, oil and gas to power our world.
Christiana Figueres, Executive Secretary of the UN Framework Convention on Climate Change, said some progress had been made at the conference, which ended Saturday.
"But let us again be clear that we are witnessing ever more frequent, extreme weather events, and the poor and vulnerable are already paying the price," said Figueres.
Former UN secretary-general Kofi Annan spoke more forcefully when, writing in the International New York Times, he noted that "much more decisive action will be needed if we are to stand any chance at fending off the dangers of climate change."
Annan said governments must reject narrow national interests if global warming is to be kept to no more 2 degrees Celsius, which scientists say is the safe limit for atmospheric temperature rise.
"It is essential that governments start phasing out fossil fuel subsidies, which currently account for about $485 billion a year, and are far greater than the global investment in renewable energy," Annan said, adding people need to press governments to develop ambitious sustainable solutions.
Kumi Naidoo, Executive Director of Greenpeace International, said the conference was a sham.
"Too many governments, North and South, continue to block progress towards a new global climate agreement while serving their coal and oil lobbies, rather than their people," Naidoo said.
Samantha Smith, Leader of WWF's Global Climate and Energy Initiative, said the lack of urgency shown by governments at the conference was sickening.
"The climate change threat has given us a clear choice — a future where destructive weather events like Typhoon Haiyan become the norm, or a world powered by clean renewable energy," Smith said.
Emission-free wind power is one of those green renewable energy sources that is already working to reduce greenhouse gasses. The European Wind Power Association has reported that 11,895 MW of wind power capacity was installed in the EU during 2012, bringing a cumulative total of 106 GW into the trading bloc.
Reducing greenhouse gases is just one of the reasons why it's so important for European policy makers to quickly endorse ambitious 2030 targets for wind power and other renewables.