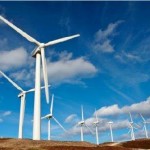 Poland is the biggest wind energy market in the EU's newer Member States, but wobbles in government support have made investors nervous. We spoke to Ewa Kurdyła, Director of the Polish Wind Energy Association, to find out what's going on…
 Poland's National Renewable Energy Action Plan indicates that cumulative wind capacity should increase by an average of 500 MW per year to reach 6,650 MW in 2020 – do you think this will happen?
Despite significant growth of the wind energy sector in the recent years it may be very difficult to meet our targets – in particular for 2020. This is caused by the lack of regulations enabling a stable development of the sector. In recent months the mood among the investors has been very bad. However, we mustn't forget that the true market potential of wind energy in Poland by 2020 is approximately 11.5 GW onshore and 1.5 GW offshore, according to the independent Renewable Energy Institute.
These figures are much higher than those in the Polish National Renewable Energy Action Plan. Therefore, I think that in the long term the industry may substantially increase its share in the national energy mix. This is primarily due to technological development. The climate of political will, which today determines the development of renewables, may also be of key importance.