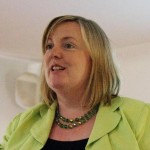 By Caitríona Diviney, Chief Operating Officer,  Irish Wind Energy Association
80% of the Irish public support wind power, an opinion poll from Ipsos MRBI conducted on behalf of the Irish Wind Energy Association (IWEA), the national wind energy association in Ireland, has revealed.
This is a clear indication that there is widespread support for wind energy in Ireland.
The strong support for wind should also serve as a positive marker for policy-makers to continue the transition to a green economy and embrace all of the benefits that can be accrued by all.
IWEA's Annual Conference, "Irish Wind Power – Our Competitive Advantage", which took place on the 27-28  March, also saw the publication of its "Best Practice Principles in Community Engagement & Community Commitment" which sets out a number of clear guidelines that IWEA members involved in wind development are encouraged to follow. The aim of these guidelines is to recommend that IWEA members provide a community commitment throughout the development of a project but importantly also to ensure continuous engagement through the life span of a project.
Speaking at the IWEA's Annual Conference on the 27 March 2013, the Minister for Communications, Energy & Natural Resources, Pat Rabbitte said, "The imperatives of climate change and energy security necessitate the switch to renewable energy. Ireland has abundant and excellent wind resources which will play a central part in our new electricity mix."
Not only will widespread community engagement bring local support for wind developments, it will have significant economic and environmental benefits. Already, wind energy provided approximately €11.5 million in local authority rates in 2012.
Ireland has entered a new era in energy in recent years and we are all now living and working through the transformation of our electricity sector as we strive for a more sustainable future.
Ireland is a small island open economy with little conventional energy resources. We import more than 90% of our energy supply and hold little sway over global energy markets pricing.
Our natural resources are being consumed in ever increasing volumes and security of our energy supply and predictability of our energy costs have become important and urgent challenges for us. Moreover, the real threat of irreversible climate change due to overwhelming increases in carbon emissions is something we cannot ignore.
Ireland is blessed in terms of geography to have an abundant and strong wind resource which allows the wind industry in Ireland provide a substantial proportion of our nation's green electricity, while also being a significant driver of economic growth. And while communities to date have gained both directly and indirectly through job creation, local authority rates, land rents and local support services, IWEA recognise the importance of having the hearts and minds of our communities with us as we move forward.
Some examples of existing community engagement initiatives include:
– The Bindoo, Gartnaneane & Mullananalt farms in Co. Cavan and Co. Monaghan have allowed Airtricity to award almost €600,000 to community groups in areas surrounding the wind farms since 2006.
– Mountain Lodge Wind Farm in Co. Cavan, an ESB and Galetech Energy Ltd development has set up a community fund in the area which supports local groups and projects.
Effective and sensitive siting of wind farms will serve to increase the net benefits Ireland will experience in terms of jobs, investment and environmental conservation, while at all times keeping the community at the heart of it all.
The latest IWEA commissioned opinion poll adds to a growing body of evidence showing that the public are in favour of wind power. Read more EWEA Blog posts on public opinion in the EU US, UK, France, Denmark, Austria and Estonia.