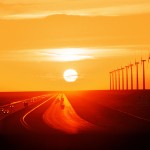 Wind energy in South Australia now meets around 26% of the region's electricity demand and has become one of the nation's growth sectors, a new report says.
The 22-page report — The Critical Decade: Generating a renewable Australia — also noted that wind power is one of the country's most cost-competitive renewable electricity sources.
Published by the Climate Commission, the report said Australia has enormous potential for renewable energy but currently that potential is under-utilised. "In coming decades, the Australian economy could be powered almost entirely by renewable energy," the report said, adding the nation has world-class wind and solar resources.