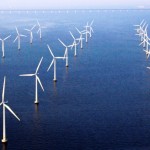 Wind power and other renewables will become the become the world's second-largest source of power generation by 2015 and close in on coal as the primary source by 2035, according to the International Energy Agency (IEA).
"A steady increase in hydropower and the rapid expansion of wind and solar power has cemented the position of renewables as an indispensable part of the global energy mix," the IEA said Monday in its annual World Energy Outlook report.
"The rapid increase in renewable energy is underpinned by falling technology costs, rising fossil-fuel prices and carbon pricing, but mainly by continued subsidies: from $88 billion globally in 2011, they rise to nearly $240 billion in 2035," the report added.