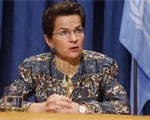 It's that time of year again when the world's attention shifts to the overwhelming need to limit and then radically reduce greenhouse gases caused by burning fossil fuels.
Organised by the United Nations Framework Convention on Climate Change (UNFCCC), the talks that started Monday in Cancun don't appear to be laden down by the heady excitement that was palpable when last year's annual conference began in Copenhagen.
As the world now knows, that optimism soon turned sour as the resulting so-called  Copenhagen Accord was neither a legally-binding treaty to replace the Kyoto Protocol which lapses in 2012 nor a plan to reduce greenhouse gas emissions that are causing global warming.