After nearly a decade of environmental assessments, regulatory reviews and engineering plans, the controversial Cape Wind project was blessed by the US government Wednesday and cleared to become the nation's first offshore wind farm.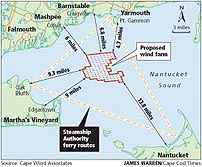 Approval for the $1 billion, 130-turbine project off Massachusetts is expected to act as a catalyst for many more offshore wind facilities in America, which lags greatly behind Europe in harnessing the tremendous potential of marine-based breezes.
While some regulatory obstacles and possible legal action challenging the decision still need to be dealt with, Interior Secretary Ken Salazar said he was confident the project would go ahead.
"With this decision we are beginning a new direction in our nation's energy future, ushering in America's first offshore wind energy facility and opening a new chapter in the history of this region,"
Salazar said.
According to The New York Times, supporters of the Cape Wind project — which is expected to generate enough power to meet 75% of the electricity demand for Cape Cod, Martha's Vineyard and Nantucket Island combined — were pleased with Salazar's decision.
"America needs offshore wind power, and with this project, Massachusetts will lead the nation," the newspaper quoted Governor Deval Patrick saying, adding construction could begin within a year. The newspaper also quoted Ian Bowles, secretary of the Massachusetts executive office of environmental affairs, describing the announcement as "the shot heard 'round the world for American clean energy."