As Europe has already successfully experienced, it was inevitable that other parts of the world would soon catch on to the huge potential that offshore wind energy can provide.
Worth noting then, is news that China's seemingly insatiable appetite for green electricity resulted in a recent announcement that the sea off eastern Jiangsu province will soon boast the nation's first group of commercial offshore wind farms.
China Daily reported Shi Lishan, deputy director of the new energy department under the National Energy Administration, said the four wind power projects include two near-shore 300-MW plants and two 200-MW facilities built on tidal flats.
"Construction of offshore wind power projects will be one focus of China's wind power industry in the future," said Shi, adding public bidding for the four projects will start in May. "As the country boasts rich offshore wind energy resources, China has great potential in this field."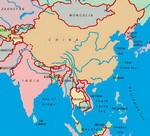 In India, offshore wind is also front and centre in the Economic Times, with a report that the nation's long coastline, low installation costs and readily available raw materials are attracting the interest of major international energy companies looking for expansion opportunities.