EWEA's 'breath of fresh air' campaign hit new highs today after the total of wind turbines adopted across Europe reached 500.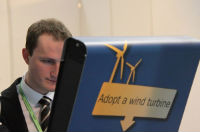 The UK still tops the league table with 53 turbines adopted, hotly followed by Spain – 36 adoptions – and France – 31 adoptions. Belgium and Germany, which were in second and third position earlier in the week, have dropped to fourth and fifth respectively.
Participants are also keenly getting their friends and relatives to vote for their adopted turbine. Currently, the Cabeco da Rainha turbine in Portugal is in poll position with 36 votes.
EWEC 2010, where the campaign was launched this Tuesday, is now over and participants are packing up their stands and preparing for the, hopefully shorter, journey home. An impressive 3,000 participants made it to the event while some 1,400 watched the online live video conference.