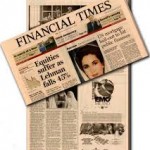 Those European countries which have cut support schemes for renewable energy, have – just like Professor Butler writing on an FT blog yesterday – jumped to the wrong conclusion.
"Competitiveness is the watchword of the moment. Recession and unemployment are the crises which require attention", the Professor writes. Yes indeed. Yet withdrawing public support for wind energy and other renewables to boost competitiveness, to tackle recession and unemployment is as illogical as eating an orange a day for your health – and stopping as soon as you get a cold.
The renewables sector employs over 1.2 million people in Europe. Wind energy alone contributed €32 billion to the EU economy in 2010 and employs well over 200,000 people in Europe. Europe is a net exporter of wind energy technology. Support for renewables is support for European jobs; a European industry and European growth.