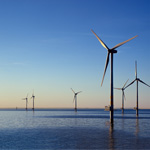 An overwhelming majority of the public in the UK approve of the government providing financial support for renewable energy technologies, according to a new survey. The YouGov poll for the Sunday Times found support from across the political spectrum, with Conservative, Labour, Lib Dem and UKIP voters all agreeing that the government should continue investing in low-carbon technologies.
The survey found 65% of respondents in favour of government spending money for wind power, while 76% said the same for tidal energy and 78% backed financial support for solar. In comparison, only 49% approved of public financial support for nuclear, 57% for clean coal and just 40% said the government should provide support for shale gas. 47% of respondents considered shale gas projects as damaging to the environment.
Despite this, Chancellor George Osborne recently revealed tax breaks for the fracking industry, with a 30% tax rate for onshore shale gas production, much lower than oil taxes. Osborne called his new tax regime "the most generous for shale in the world".
"Poll after poll shows that voters value low carbon technologies such as wind and tidal power," said Jennifer Webber, director of external affairs at trade body RenewableUK. "This latest poll shows that there's not a single age group or voting demographic where a majority of people don't want financial support for wind. It's clear that for politicians – whether they're UKIP, Conservative, Liberal Democrat or Labour – that further development of our natural wind and marine resources is the way to go."
Some members of the UK government seem to understand that renewable energy is the way forward for Britain. Deputy Prime Minister Nick Clegg recently launched a plan to boost offshore wind energy and develop a home-grown industry, creating "26,000 jobs and a £7bn a year business by 2020". But this ambitious plan is in danger of being thwarted by the government itself, in its reluctance to support EU targets for renewable energy beyond the current targets for 2020. Renewable energy companies do not know what the regime will be in the future, and are thus becoming reluctant to invest.
"Firms such as Vestas, Alstom, Siemens and General Electric have all scrapped plans for new wind turbine factories in Britain, or put them on hold, because of uncertainty about the government's commitment to clean energy," said Tom Greatrex, Labour's Shadow Energy Minister.
In order to maintain growth in the wind and renewable energy industry, provide new jobs and export opportunities and honour climate change mitigation promises , it is essential that the UK along with the other EU Member States support  binding 2030 targets for renewable energy and greenhouse gas emissions.