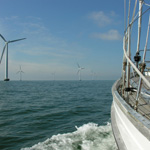 The 1 May celebrations in Europe last week were tainted by historically high unemployment levels, a miserable macroeconomic outlook and a battered climate and energy policy. The challenges facing Europe's economy are many. But it is beyond doubt that a thorough modernisation of our energy supply remains an important part of the solution.
Every single day the EU spends almost a billion Euros in oil imports. This is far from being the best way for Europe to strengthen its competitiveness, public finances, employment and security of supply. At the same time, an outdated and poorly connected electricity grid continues to impose unnecessarily high energy prices on businesses and consumers.
In many Member States the economic crisis has led "cheap energy" to become a mantra for business and policy makers. I couldn't agree more. Accordingly, it is all the more important that the setting of energy prices is based on fair and transparent accounting methods. Therefore the cost of pollution should, obviously, be included as should the hidden subsidies from which both fossil fuels and nuclear energy benefit so hugely.
We must keep in mind that what is cheap energy today will not necessarily remain cheap tomorrow. In the past, we have time and again underestimated the development of the oil price. Given that the European continent possesses no significant fossil energy reserves, and is already importing more than half its energy, it would be a high-risk game, both from an economic and from a security policy point of view, to base our long-term energy strategy on what is cheap here and now.