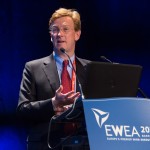 Cost reduction is the one of the biggest challenges facing the wind energy industry today, according to Dave Jones, head of renewable energy at Allianz Capital Partners.
Speaking in a conference session on ´finding new growth opportunities´ at EWEA´s annual event in Barcelona, Jones said that reducing capital costs, particularly in offshore wind, must be an industry priority over the coming years.
Jones also commented on the Spanish renewables sector, which has hit a stumbling block after the country´s government – led by Prime Minister Mariano Rajoy — slashed subsidies for producers in an effort to curb a 30 billion euro tariff deficit.
He said that the "past cannot be changed" in Spain and that "investor confidence has been damaged."
Other session panelists included Francois Sterin, director of global infrastructure at Google, Tom Kiernan, CEO of the American Wind Energy Association (AWEA) and Niels Jongste of Green Giraffe Energy Bankers. Recharge Editor-in-Chief Ben Backwell and Canadian Wind Energy Association President Robert Hornung chaired the session.
Google´s PPA
Sterin – repeatedly questioned on Google´s power purchase agreements in Europe — told the audience that by investing in Sweden, the Internet giant is trying to make its data centres carbon neutral.
In January, Google announced a 10-year deal with Swedish firm Eolus Vind to power its Finnish data centre as of 2015.
The deal is part of the Silicon Valley-based company´s pledge to reduce its carbon footprint to zero.
Sterin said that the 10-year duration of Google´s PPAs strikes a "good balance" between Google´s interests and those of investors, adding that the company would like to partner with more utilities in future.
U.S. wind energy
AWEA chief Tom Kiernan stressed the challenges that wind energy is facing in the U.S. market.
He called for the Production Tax Credit – a vital subsidy for the U.S. wind industry – to be renewed after the government allowed it to expire at the end of 2013.
"Nuclear, coal, oil, gas all receive subsidies (in the U.S.)" he said, "(we need) a level playing field for wind."
He added that there is a "good chance" that the PTC will be renewed in 2014, citing the substantial political support that wind energy has received in the U.S.
And it was Kiernan who had the final word, going on to say that he could see a scenario in the future where wind producers could compete with other energy sources without the need for the PTC.