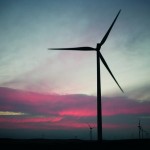 Wind power generated enough electricity to power four out of 10 UK homes last week – and that during a freezing March day and at a time when gas prices were at a seven year high.
From 9.30pm last Thursday night for the rest of the night and day, wind power generated 5 GW of electricity consistently over the 24 hour period, meeting over 10% of the country's electricity needs.
Last week UK gas prices reached a seven-year-high after a pipeline connecting the UK and Belgium was shut down due to a technical fault.
"What this shows is that wind is a stable and reliable source of power generation on the scale we need, when we need it most," Maria McCaffery, Chief Executive of industry body RenewableUK, said. The news on gas "serves as a timely reminder of the vulnerability of supply and the price volatility of imported fossil fuels," she added.