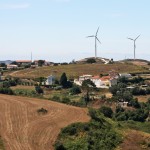 It's not easy to measure wind turbine noise as background noise from rainfall to traffic interferes with the results, says the latest Wind Directions based on a recent EWEA workshop. In fact, that background noise – including the wind itself – is usually louder than the sound of the turbines.
At least 17 peer-reviewed studies have found that there is no adverse effect on human health linked to turbine noise.
However, people's concerns about wind turbine noise must be taken seriously. "Developers must also show respect by answering questions and listening to fears," said Jeremy Bass, Senior Technical Manager at RES.
Read the full article in Wind Directions now.