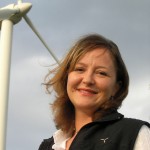 Wind energy can be controversial when it comes to public acceptance, even if opinion polls show the public are largely in favour. We talk to Anna Stanford, Public Affairs Manager at RES and Lead Session Chair at EWEA 2013 in Vienna next month, to get the low-down on the issues and the solutions.

Have public acceptance issues risen over the last few years?
I've been working in the wind industry in the UK since 1992 and wind energy has always been controversial, polarising opinion at both a local community and national political level.  Groups set up specifically to oppose wind have been active consistently since then and have influenced politicians and the media;  ironically over the same period opinion polls have shown that public support for wind has remained consistently high.
While back then other markets did not seem to be experiencing the same level of controversy as the UK, this has changed, with anti-wind groups becoming increasingly well-organised globally and active in key markets (for example France, Canada and Australia).  In the UK, while the majority of the public remain supportive of wind energy, it remains controversial and the issue is increasingly combative on the national political stage.
Why do you think this has occurred?